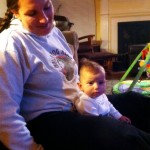 Dear Ronin,
On October 15th I had to work a catering for Grandpa Nag and was gone all day.  You see, I had been waiting so patiently to hear you laugh and it just hadn't happened yet.
While I was at work you laughed a great big belly laugh for your daddy.  I was so jealous… I couldn't stand it!
The next day your dad held you upside-down and I kissed you all over your face and you gave me the same belly laugh.  I was so happy I got tears in my eyes!  I try all the time to get you to laugh because it is simply the sweetest sound that I have ever heard.
Love,
Your mom